The so called "Eifel" is that German area of the mountain range covering the northern part of the state "Rheinland-Pfalz" and the southern part of "Nordrhein-Westfalen" - on the Belgium and Luxemburg side the extension is called the "Ardennes".
Duren directly borders to the "Nordeifel", which includes - amongst others - the sub-areas "Rureifel", "Hurtgenwald", the "Eifel national park", the "Hohe Venn" as well as the region around the historical "Monschau". The "Eifel" has really a lot to offer - at the "Hohe Venn", where nature lovers can inspire the extensive high moor, the river "Rur" has its source.
This river - and of course the bike trail "RurUfer bike trail" named after it - are taking course straight across the "Eifel". The historical village "Monschau" - famous through its red house, the mustard mill and mainly the medieval town picture - are on their way as well as Germany's second largest artificial lake, the "Rursee", before taking direction to the district Duren by passing a small town called "Heimbach".
The picturesque Monschau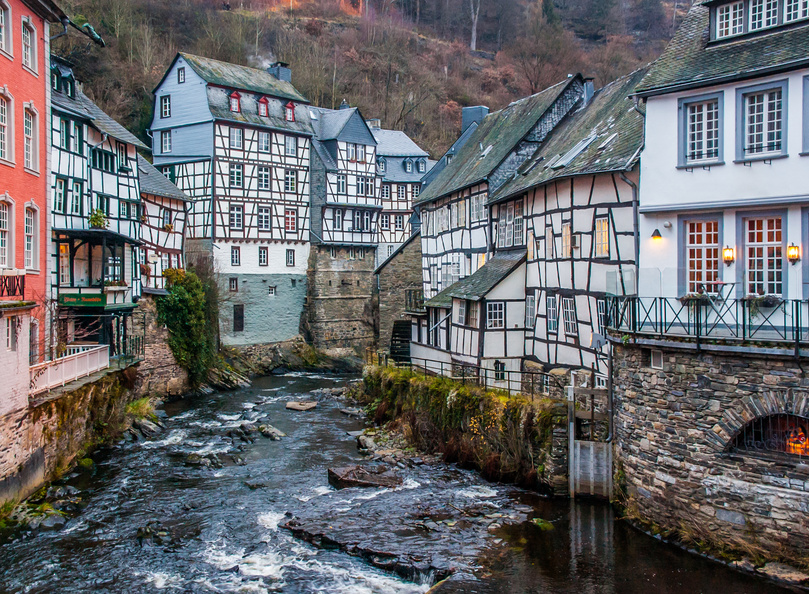 Who is interested in history, will for sure find some quite interestings sights: the "NS-Ordensburg" at Vogelsang or discovering the marks of one of the hardest battles during the Second World War, the "Schlacht im Hurtgenwald"; both are memorials of the times we never want to come back. Furthermore - just to point a few examples - you can visit "Bad Munstereifel", another historical town being surrounded by its four city gates and being located below its castle construction, the outdoor museum in Kommern or the Mariawald abbey.